A third version to go with the third anniversary of CMOS De-Animator!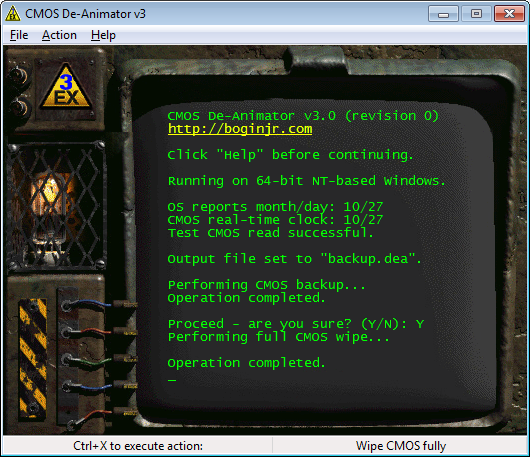 Yes, it was late October 2010 when the first version of CMOS De-Animator was published, that time under "ST-WARE Softworks". And since then, many improvements have been made to extend its functionality..
Update 24th June 2014: Build 3.0.1 has been released, now includes a bootable media wizard to create a bootable version of CMOS De-Animator without formatting the destination drive.
Use this wizard if Windows or current user privileges do not allow you to touch the CMOS.
It can also de-password certain Acer laptops, which is not possible in the Windows version!
Update July 2020: Source code of the v3 revision has been made public. Enjoy!
Compared with CMOS De-Animator v2, the new features include an interactive new GUI, command-line support with optional silent (unattended operation) switch, log file generation, and experimental EEPROM / low level BIOS reading support!
Original features – backup, restore and reset the CMOS RAM – of the old De-Animator are, of course, intact and still conveniently accessible. The same goes for extreme backward compatibility, just as with previous versions – the application runs on a Windows NT 3.51 just as fine as under Windows 8, 32-bit or 64-bit!
And since no MFC or MSVCRT bullshit is used, no installation is required – just unzip and run. Alternatively, specify "/?" as a parameter to invoke a list of available command-line options.

Extreme compatibility
Disclaimer, known issues and more information
The application is released as freeware, "as is" and with no warranty or liability for incidental or non-incidental damages on your machine.
See the Disclaimer on this page or invoke Help in the application for more information.
If the test CMOS read fails, try re-running the application as administrator. The same if you get a fatal error causing the application to terminate.
There's a reason why it is called CMOS De-Animator and not BIOS De-Animator 😉 .
Not all settings of your machine BIOS are crammed into the 128 (or 256) bytes of your CMOS RAM.
Administrator (BIOS SETUP) and power-on passwords are usually in the CMOS on desktop computers, and in a separate EEPROM in certain laptops, or branded desktops.
As stated in help, be cautious when using the utility on laptop computers, branded desktop computers or those with vendor-equipped anti-theft technology.
There have been positive reports on laptops, but also negative ones, where the proprietary BIOS evaluated the CMOS access as an intrusion and locked itself up.
If that happens, a BIOS re-flash or replace may be necessary, sometimes through an undocumented key combination to flash it from a disk.
Help development of CMOS De-Animator by sharing your thoughts or bug reports in the comments or using the Contact page above.
Currently (as of revision 0) what needs to be tested are the EEPROM dumping functions, they have been reported to work on certain Dell machines.
If you happen to know any more undocumented bus I/O commands, contact me and I'll implement them right away.
And as a bonus you'll also get your prestige name mention in the Help box 😉
The "are you on a laptop? take caution" warning is not displayed on laptops with no battery present.
Reason is, to keep the application system-compatible, only run-of-the-mill WINAPI had been used in the application.
Of course I could just query WMI and do the dirty work.. but I think there have been enough warnings applied already 🙂
Still reading? Congratulations! Here's the download link you deserve.