As a teenager, I used to publish small freeware Win32 applications and system tools under the name ST-WARE Softworks. Because the original site is now defunct, I decided to put up a mirror for all of them here. Feel free to share – however since I have released them quite a long time ago, no additional support is provided. Please update your links or bookmarks.
Note: usage is at your own risk – I take no responsibility over any incidental damages on your machine.
Some of these utilities might trigger a false alarm in certain antivirus software, this is caused by internal compression routines which pose no real malware threat!
---
CMOS De-Animator v2 & 1.0
Update: new version available here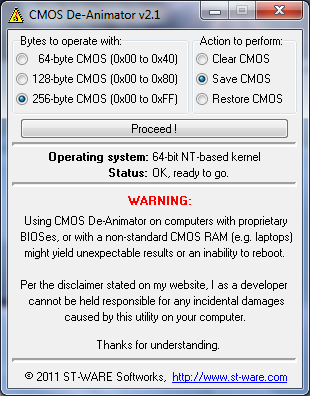 A service utility to manipulate with your system's CMOS RAM. Version v2.1 (11th Aug 2011) runs straight under any 32 or 64 bit Windows operating system (inarguably, world's first such application to do so!).
To work properly, administrator privileges might be required. Take care with laptops – their BIOS password, if set, is usually stored in an EEPROM outside CMOS and in such cases, attempting to clear the CMOS can cause your BIOS to lock itself up.
Previous, non-GUI versions: CMOS De-Animator 1.0, x86 and x64 (Oct 2010)
---
FileFiller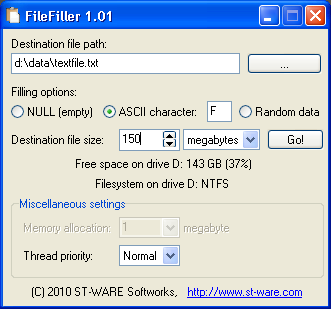 Dummy file generator for testing/benchmarking purposes. Can also generate files with pseudo-random data. FileFiller 1.01 (10 Nov 2010)
---
Blitz Planner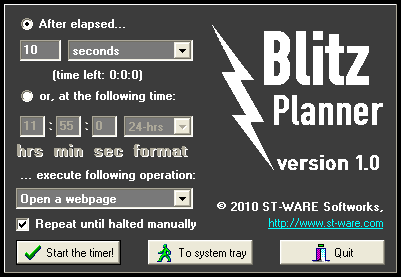 Fast task scheduling application. Blitz Planner (12 Aug 2010)
---
Non-GUI utilities
CPUCLOCK: Show current CPU frequency using RDTSC
FIXAUTO: Use this if having problems with Autorun on NT, 2000 or XP.
MON_OFF: Turns your monitor off, without sleeping the computer.
REROUTE: Use this, if you have a DOS/Win9x machine equipped with an LCD screen that doesn't support the 640×350 mode.