Unless professionally required, a lot of high voltage enthusiasts do not wind their high voltage transformers at home. This task would be nearly impossible to do without proper coil winding, insulation potting and vacuum-sealing machinery. Thus, high voltage transformers from everyday electronic appliances, such as CRT TVs and computer monitors, microwaves, automobile ignition coils etc., are used. This article will be regarding the so-called "flyback transformers", a well-known term in the high voltage hobby, and their various types of construction and output.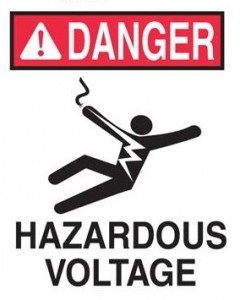 Firstly, what is a flyback transformer? Well, if you take a peek into every classic "fat" CRT television or monitor, whether vintage or modern, you are going to find one. Basically, it is a ferrite transformer with an air gap and 2 or more coils, sealed in epoxy or interlaced in an insulation paper, whose outputs go to the television screen. These transformers run on ultrasonic frequencies, mostly in the 15-50 kHz range, and are designed to provide 15 to 35 kilovolts for the screen's electron beam. This output is easily located; it is the thick red wire with a scary looking suction cup connected to the screen… Newer flybacks also have, in addition to numerous other things, a high resistance resistor cascade, dipped in epoxy, to provide information about the high voltage output to the internal driving circuitry of a TV or monitor. These flybacks also have two or three "knobs" (potentiometers), to adjust the focus and brightness of the electron beam. Depending on age of the TV or monitor which you might have disassembled, you are going to meet with these types of flyback transformers: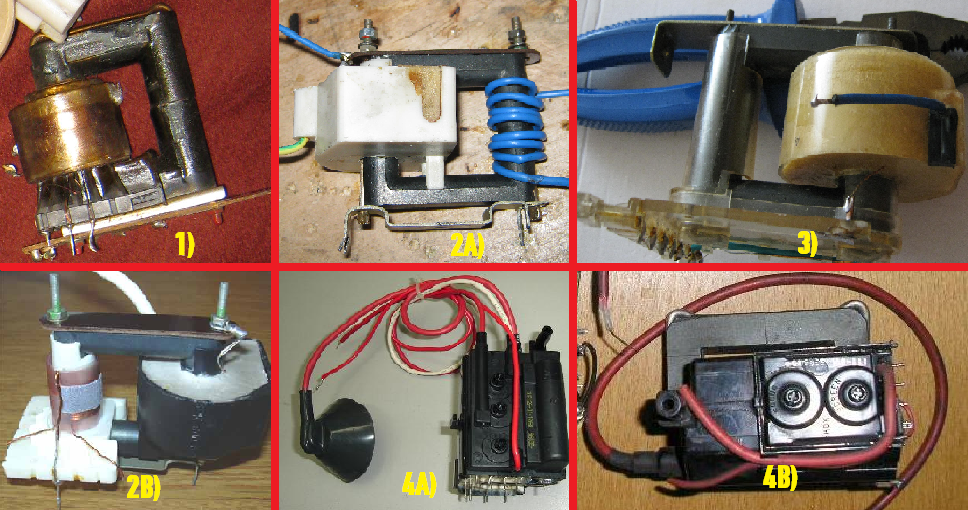 These are 6 different kinds of flyback transformers which I have met with.
Type 1): These 6-8 kV AC flybacks were used in conjunction with a voltage multiplier, like this one.
Absolute maximum allowable output voltage 10 kV~ at 15 kHz (PAL horizontal frequency). Prevalent in many Czechoslovak, Soviet and other color television sets of the 1980s. Has many layers of insulation foil. Primary windings are located below the secondary.  Use these flybacks for all the lower voltage, higher current needs. Will sustain at least 500 watts of output power, if ran in short periods or with adequate cooling.
Type 2A): A 10 kV AC compact flyback for portable black and white television sets with secondary dipped in epoxy. Maximum output voltage 12-14 kV AC. Used with an external rectifier block. Not suitable neither for higher voltages nor high output currents.
Type 2B): The same as 2A, however with the high voltage rectifier integrated to the secondary, so it is a DC flyback. Has slightly less secondary turns. Used in TESLA "Merkur".
Type 3): Prevalent in all black and white sets from early 1960s up to circa 1978. This AC flyback has the secondary dipped in epoxy and is similar to a kind colloquially named the "disc-shaped flyback". It was used along with a vacuum tube rectifier, like the DY86, DY87 or 1Y32. This particular type has been made by the Czechoslovak TESLA in mid-70s and the maximum output voltage was something over 20 kV AC at 15 kHz. Used in my first quasi-resonant driver.
Type 4A): These DC flybacks are found in every CRT computer monitor and are called the DST flybacks (diode-split transformers) because of the several high voltage diodes and secondaries inside. In addition to the high resistance resistor cascade and focus/screen tuning potentiometers described above, these kinds have an integrated high voltage filtering capacitor (few nanofarads at >=30 kV), or – optionally – a HV capacitor for dynamic focus. Because of the capacitor, these flybacks can hold a charge enough to shock you even after a week. The bottom pins will start arcing over, also because of the internal capacitor, if the flyback is overdriven above 30 kilovolts.
Type 4B): Like the 4A, these DC flybacks are also diode-split (DST), however these are found in every modern CRT TV-set from mid-90s and onwards. These have just two screen-tuning potentiometers and no internal capacitors whatsoever, so they can be safely overdriven to circa 50 kilovolts DC; albeit some beefy ones might give you even 70-80 kV with ease. This flyback type has been used in my Monster flyback driver.
A practical problem with DST flybacks – types 4A and 4B in the picture – would be locating the high voltage return (ground) pin on the bottom. If you're lucky to find yourself a datasheet for your particular flyback (or its HR-marked equivalent name in an online conversion table), then it is a cinch. If that is not an option, you can try the circuit tester published here to find it. As a last resort, you can try constructing a low powered flyback driver, like the "2n3055" single-transistor one, then powering it on and placing the anode wire close to the bottom pins. You know you have found the right pin to which the anode makes a continuous arc.
And that is about it, folks. Hope this article explained some practical facts 🙂