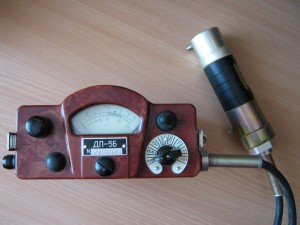 Description: Soviet army Geiger counter.
Manufacturer: Unknown
Made in year(s): mid 60s-early 80s
Country of origin: U.S.S.R.
Status: Working, last calibration March 1990
---
The DP-5B, or ДП-5Б in Cyrillic, is an army radioactivity contamination (radiac) intensity metering device used in the former Soviet Union.  This meter is a true, remarkable relic of the Cold War – originally designed for army measurements after a nuclear explosion – it has been extensively used in cleanup operations after the Chernobyl disaster.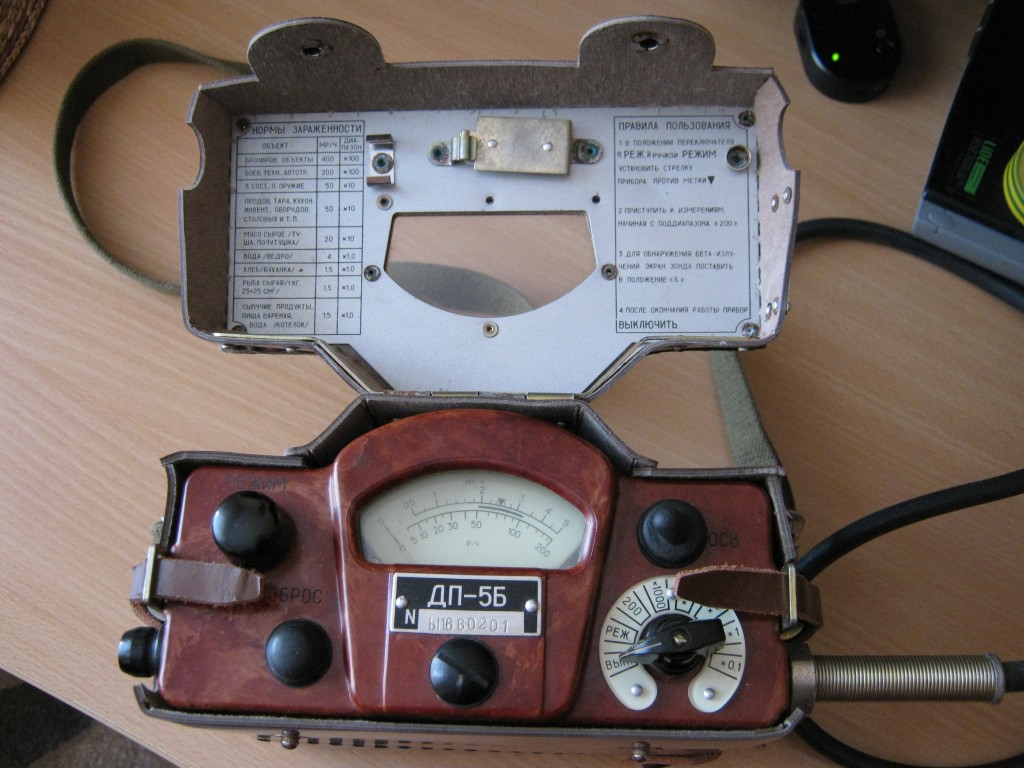 DP-5B in the faux-leather case

As you can see, it is a typical product of Soviet military engineering; being rain- and water-proof with emphasis on mechanical stability, ease of service and straightforward usage: "switch on and measure". In layman's terms, it is built like a tank, withstands harsh manipulation and even after 50 years it is still capable of some preliminary measurements.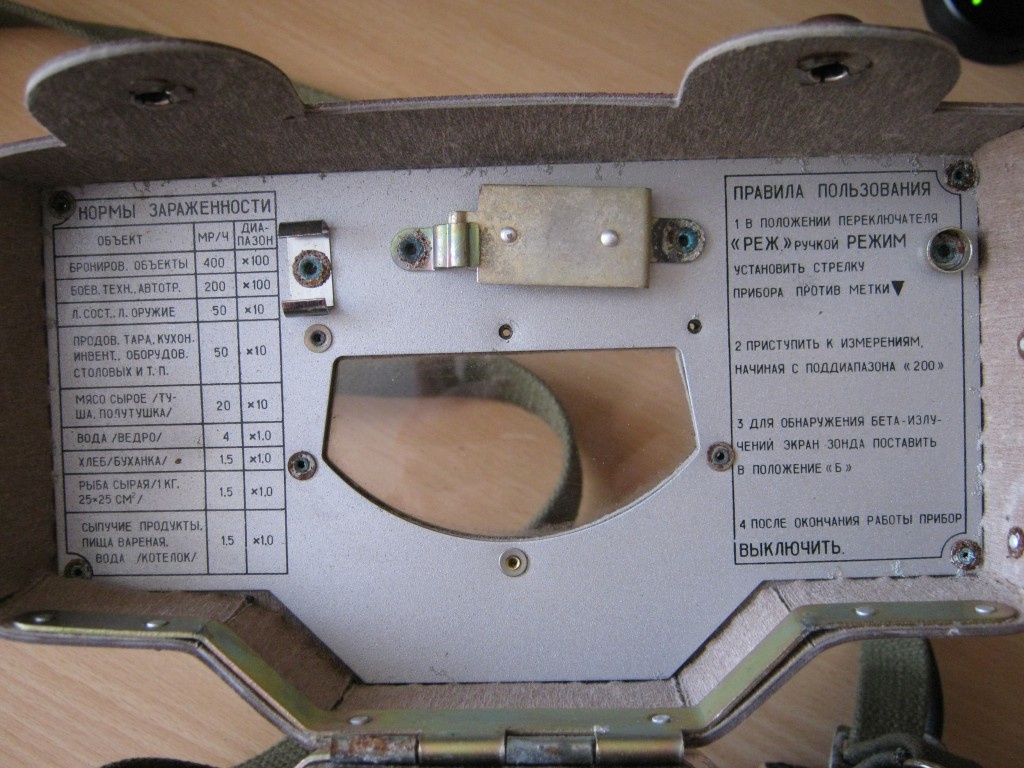 Instructions and maximum wartime food irradiation
Several versions of this meter have been produced. The first, marked just DP-5, had 2 separate scales for beta and gamma decay. Then, DP-5A and DP-5B followed; these two were almost exact in their outlook, however allegedly different from the original DP-5 in their internal circuitry. The "newest" revision, introduced in early 1980s, was the "ugly green" variant DP-5V (ДП-5В in Russian), incorrectly transliterated as DP-5B, which had been built into a case made of more modern plastics. Along with some small changes, this version had a JFET auto-tune circuit; since the original DP-5(A,B) variants have to be manually tuned before proper operation.
Unlike the Czechoslovak IT-65, this device has a simpler internal circuitry and thus is less convenient to work with. Being a classic Geiger counter, it has a second Geiger-Müller tube for measuring high levels of contamination, as opposed to IT-65's ionisation chamber. The meter operates in 6 ranges and has a gauge with two scales: 0-5 mR/h, which is active when the rotary multiplier switch is set to "x1000" down to "x0.1", and 0-200 R/h when the switch is set to "200", as follows:
0 to 200 R/h: "200"
0 to 5 R/h: "x1000"
0 to 500 mR/h: "x100"
0 to 50 mR/h: "x10"
0 to 5 mR/h: "x1"
0 to 0.5 mR/h: "x0.1"
This system might have some drawbacks when it comes to calibration, may sound complicated at first and the measurement takes longer than with the IT-65, however it is vastly superior to IT-65's tiny logarithmic scale, as you are able to obtain much more precise values. The time base of the measurement is also longer: this has the advantage of the meter keeping its reading until re-set or switched to a different subrange, so that the needle keeps its position even if the device is shaken or subjected to shocks.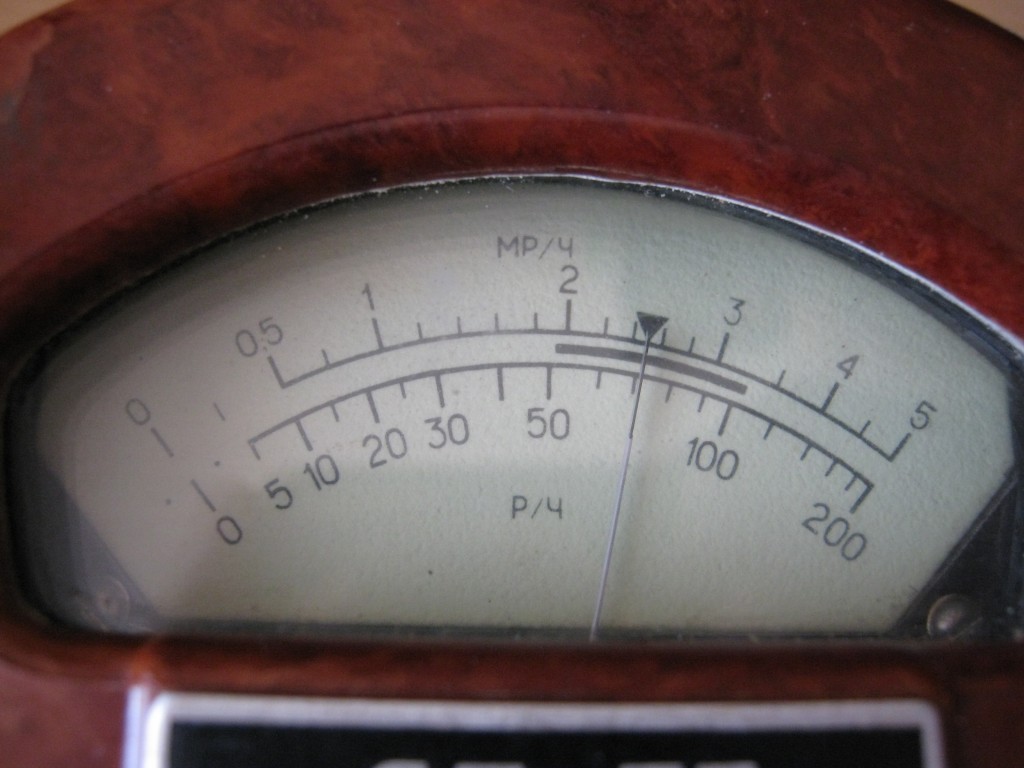 Manual calibration after powerup
The DP-5B operates on three obsolete 1.5 volt Soviet batteries. Two of them are in series for the high voltage and detection circuitry, one powers up the scale illumination. These batteries are no more in production. However, with some cardboard and aluminum foil, it is possible to make your own "adapters" for today's AA cells. Or, alternatively, you can dismantle a 4.5V battery pack, unsolder the cells which are inside and wrap them in some insulation tape, as I did. These cells are exactly the same length this meter accepts.
After powering up, it is mandatory to calibrate the needle to the black triangle marker, which is printed on the scale. This is done by switching the meter to РЕЖ mode and using the РЕЖИМ potentiometer for calibration. If this is not possible, the batteries must be replaced, as the internal inverter is not able to reach the operating voltage. After that, the meter is usually switched to the lowest range (x0.1) and it's ready. If the needle goes over the scale while measuring, the multiplier is switched one range up and the СБРОС pushbutton is pressed to zero out the over-scaled reading.
As mentioned above, the scale can be illuminated using the ОСВ switch. However, there is also some fluorescent glow in the dark zinc sulfide (ZnS) lacquer paint, which is present on the dials. They glow in the dark if exposed to daylight or artificial UV.
Like with the IT-65, the probe can be switched to measure beta and gamma, or gamma radiation only, by rotating the metal shield. However, the two Geiger tubes which are used here, cannot detect alpha radiation due to their design. A SI3BG, made from glass, is used here for the "200" range and a SBM-20, made from metal, for the other ranges.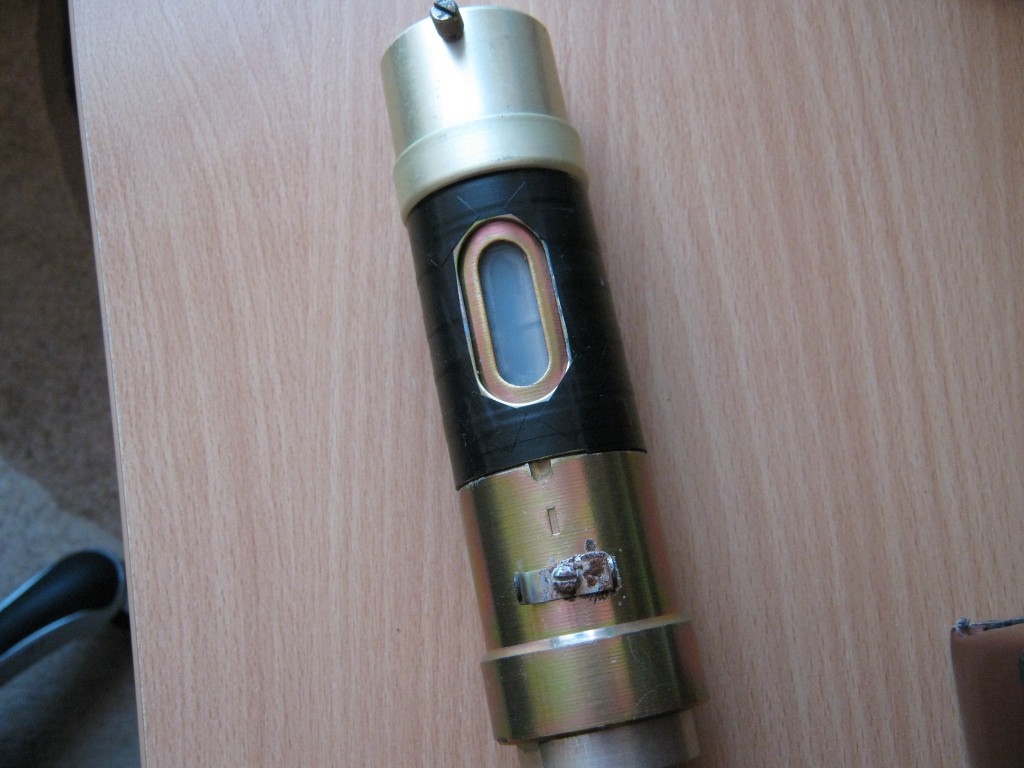 Beta and gamma detection, shield open
Gamma only detection, shield closed
My meter, despite being over 50 years old, is still in fairly good condition and when compared to my IT-65, it still shows quite accurate readings. However, some oxidation and rust is present on the rivets and on the metal probe. You might have noticed the black insulation tape on it – it just looks better this way 🙂
Accessories included: an exhaustive instruction manual in Russian, complete with parts list and explains servicing, a log and calibration book, 2 spare lightbulbs and rubber caps for switches, some weird-looking (but very comfortable) headphones, and an extension rod mount for the probe to measure radiation at ground levels. A strontium-90 control check source is present at the top of the case, covered by a metal sheath. Because of age, it gives off just 5 mR/h from close proximity.
The total weight is something over 3.5 kg including accessories.