Now here's a novelty, besides high voltage! A two watt 445nm "M140" diode in heatsinked, focusable housing, all with a regulated constant current driver. So, here's the result of jumping on the bandwagon of lasers…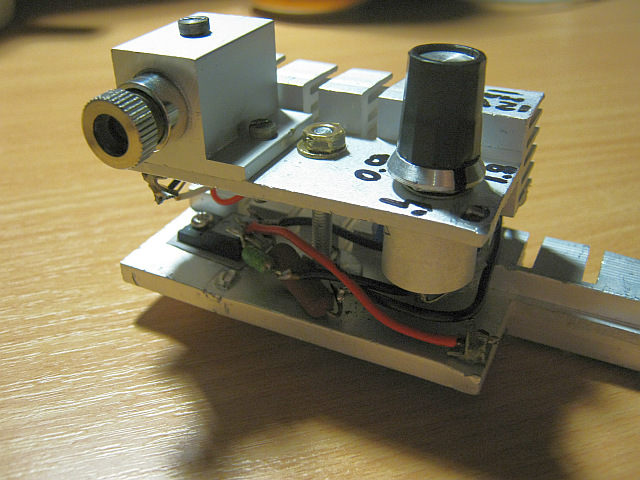 Front
The most precious part in this circuit is, guess what, the diode itself! Being extremely! sensitive to operating temperature, static electricity, reverse voltage and current spikes I had to take all these factors into consideration while making the driver. And even with the "heatsinked" setup, all it can handle without some Peltier cooling is a runtime of 1 minute on maximum power (2000 mW) and a cool-down time of 1.5 minutes.
Bottom
Yes, without active cooling, all it can handle is a case temperature of 50-55 degrees centigrade, with an ideal thermal transfer, after which the overall lifetime (number of operating hours) starts to decrease sharply. The diode itself wasn't new when bought from eBay, so that adds a little notch to its health.
Outside in dark, unfocused
The constant current driver itself had been made from an operational amplifier and a MOSFET – schematic below – so it has been of a linear topology. Properly tuned, it provided a smooth regulation between 100mA up to 1750mA of supply current. In later stages I've replaced the driver with a small SMPS circuit board to increase efficiency.
Focused to a building
At full power, burns into wood and plastic up to 20m and ignites matches up to 35m. That means – eye protection is absolutely required, even the shortest duration contact with the main beam and your eyes can easily lead to permanent damage; partial or full blindness. Care must be taken with the scattered beam, too!
Main beam in dark at full power
Of course, output power depends on the current flowing through the diode. Depending on its health and lens used, a new M140 diode can provide of about 500mW at 450 mA, 1 W at 750 mA and 2 W at 1500 mA. Source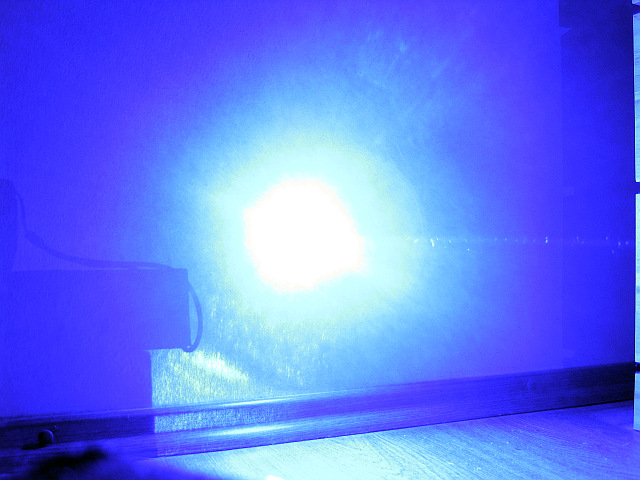 On a wall, focused
Just to give you an estimate of its brightness 🙂 Hit the wall from a 4 meter distance.
Now for the schematic itself – be sure to solder in the diode as last, and use some grounding straps to your hand and your soldering iron/gun. My advice is to buy a completed module on eBay, so you don't have to press the little thing in the module. Grab one with glass lens, as it will fry through any plastic/acrylic lens at full power.
ESD protection is already intact, but I'd also recommend placing a diode in series with the whole circuit in order not to reverse input polarity.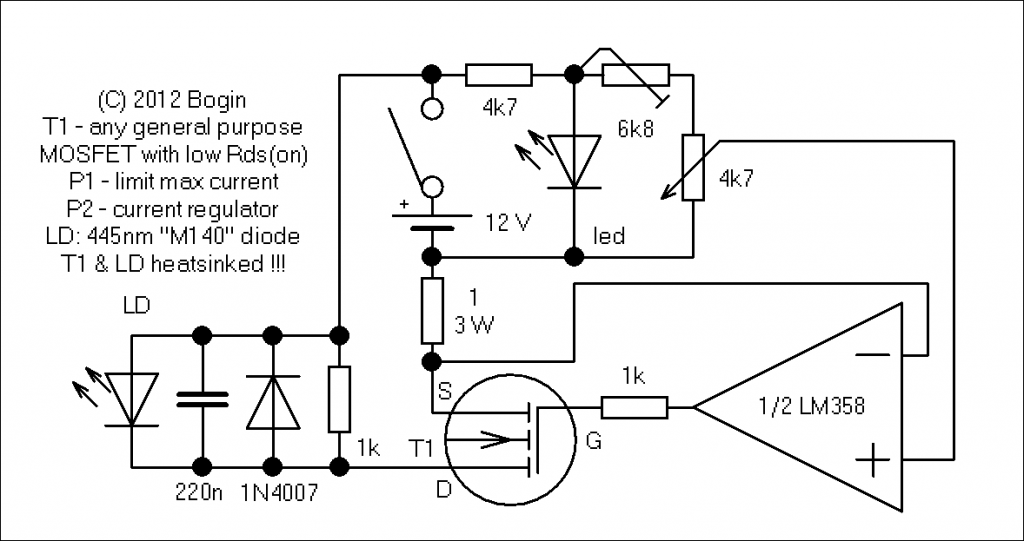 Driver circuit