Now, let me begin this article by stating that this *is not* a so-called "conversion" with an LM317 (or any other linear regulator in general) like you might have seen on thousands of other web pages, nor a so-called "lab" supply that was made just by shorting the PS-ON pin. This is a real ATX to regulated supply conversion, which might come in handy for you.
The reason why I have chosen to make this article was the increasing number of popularity of my ATX supply hack, which I posted on 4hv.org and simultaneously on Youtube in August 2011. A lot of people started to ask me for a schematic, however I had to respond that there was no universal one. For every different kind of supply the approach is the same, however parts involved might differ a bit.
The resulting product will be a smoothly regulated ATX supply from circa 4.7V (some even might go down to 3 volts) up to the voltage you set it, with short circuit protection intact and with maximum output current exactly the same as it's written on your original +12V line rating ! So, here is how to do it.
No LM317's and no huge heatsinks…
To change the output voltage of a power supply like this, you need to alter the feedback (PWM) circuit of the driver IC. This tutorial will be regarding those supplies, which are of halfbridge design (two high-voltage NPNs on the primary) controlled by a TL494 chip, or its Chinese equivalent like DBL494, KA7500 and alike. So, if your particular PSU is equipped with a chip like this (a majority of ATX PSU's in the 200-400 watt range are), read on. However, there are also a few other designs, such as single MOSFET flyback topologies, with optocouple feedback driven by a UC384x chip, which this tutorial does not cover.
Step 1: After you have disassembled your particular PSU, double-check that the TL494 chip is getting its supply voltage from a "helper" supply. Basically, you should see at least 3 ferrite transformers on the circuit board and a heatsinked linear stabilizer (78xx) powering the chip. If you do not, it is not advisable to proceed. As far as I know, AT supplies are built this way, so take caution with these.
Step 2: Locate the TL494's first +IN1 pin and carefully disconnect it from the circuit board. Use a desoldering pump or nipper pliers, the choice is yours. Then, make a circuit like this – the values specified are good for a start; you might have to tune them a bit for your setup. Wire it all up as shown.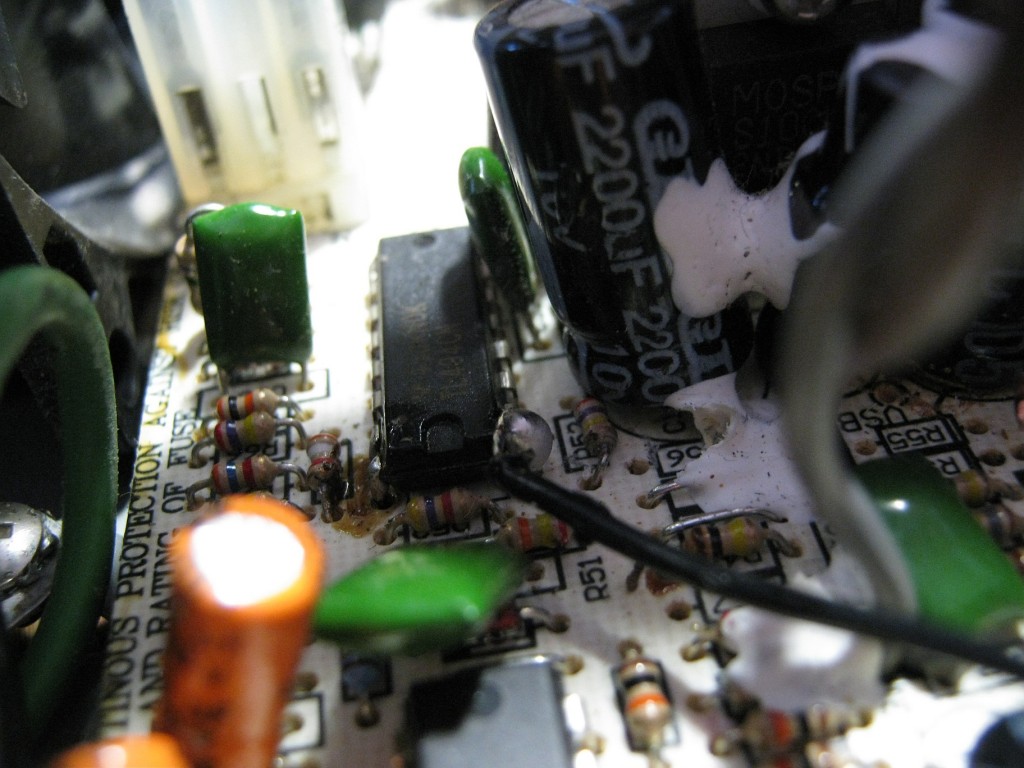 Step 3: After you are finished with step 2, this is important: set the tuning potentiometer P1 so it shorts TL494's first pin with the former +12V line. Use the former +12V as output, ground stays ground. Plug the supply in and turn it on with a voltmeter between the +12V and GND terminals. If it fails to turn on, proceed with step 4. Otherwise, start slowly increasing the output voltage with the potentiometer until it reaches 15-16 volts. Use the trimpot P2 to limit the maximum voltage to 15-16 volts; until the tuning potentiometer won't let you go past this value. After this, try some dummy load. The supply should have its short circuit protection intact (try it) and should give you the same amperage rating as it was on the former +12V line. If the supply shuts down even under a light load, proceed with step 4, otherwise – add a transil or a few watt 20V Zener diode in reverse polarity across the output terminals – bravo, your regulated supply is now finished !
Step 4: If you are instructed to proceed here, unplug the PSU, fast. Double-check the circuit you have made in step 2 and whether you have wired everything properly first. If it seems to be order, trace the former +12V, +5V and +3.3V lines for any fast or sensor diodes, or low-wattage Zeners, which might lead to the overvoltage circuitry. Desolder always the first diode which you might meet on each line, then repeat step 3. If this did not help and you are sure that you have not missed any, here's the last resort: disconnect the 4th pin of the TL494 and ground it through a 4k6 resistor. Alternatively, chip off pins 13, 14 and 15. This way the supply will force power on regardless of the protection circuitry or the status of the PS_ON pin. You are going lose the original short circuit protection this way, too. This is where the fun begins: now if you make a mistake or a short circuit, be prepared for some fireworks. At this point I also advise you to cover the supply with a hat or something before powering up. 🙂
A note to add: if you manage to break the feedback circuit, the output voltage might skyrocket up to 30 volts, destroying all electrolytic capacitors and other parts in the process.
And that is about it, folks. Congratulations if you got your supply working this way. If you didn't, don't be sad – for some supplies this conversion just might not work at all. In addition, ATX supplies are not something scarce, so get a few to experiment. If it tripped the breaker and burst in flames, then I hope you have read the Disclaimer before attempting this conversion, as you were instructed to do so at the main page. 🙂
This is the conversion applied to a 300 watt "DTK" supply. As you can see, the output stays stabilized – even at a 14 amp draw, the voltage drop is just a few tenths of volts. However, I forgot to include the protective transil/Zener described above and managed to short one of those internal Schottky rectifiers in the PSU, from inductive kickback caused by a cordless drill motor.
---