To go along with flyback drivers, X-rays and other high voltage stuff, I have decided to build myself a Tesla coil. Because I live in an apartment building though, there would be no place to accommodate and run monstrous coil designs, not mentioning interference, so that is the reason why I've opted for small and sweet portable setups like this one is. Behold!
In classic mode of operation (3.5cm sparks)

I had been in a dilemma in which topology should I've went for. Nikola Tesla's original creation – the spark gap Tesla coil – has its advantages at high input powers; transistorized (solid-state) Tesla coils need a good driving circuit and are more prone to failure, but since at the time I had been making this coil one of my sources for obtaining electronic parts were black and white tube television sets; I have chosen the vacuum tube (VTTC) design, as vacuum tubes are mostly foolproof and sturdy at high voltages and don't need special driver circuits.
Schematic, click to enlarge
The basis for almost every VTTC is a class C-Hartley oscillator. Here, the anode supply is obtained from mains through a multiplier wired in a bit non-standard way, to increase peak-to-peak voltage. At this power output, the resonant capacitor is nothing unusual; a parallel connection of a few nice foil ones rated 0n5 is going to do the trick. To increase efficiency and decrease input current draw, there's a thyristor (SCR)-based interrupter (staccato) circuit, which – when properly tuned – gives sword-like streamers double in length (7 cm) !
Interrupter mode (staccato), 7cm sparks
The tube which is used in my setup comes from a horizontal deflection circuitry of a B&W television set. I'm using a PL500 made by RFT, but with any similar pentode tubes like PL36 (EL36), PL504 you're good to go. These were extensively used in every European black and white televisions through the 60s-70s.
However if you happen to have a PL509, EL509 or its Soviet equivalent 6P45S, it is easy to get 20 cm streamers with a microwave oven transformer supply and a good resonant cap.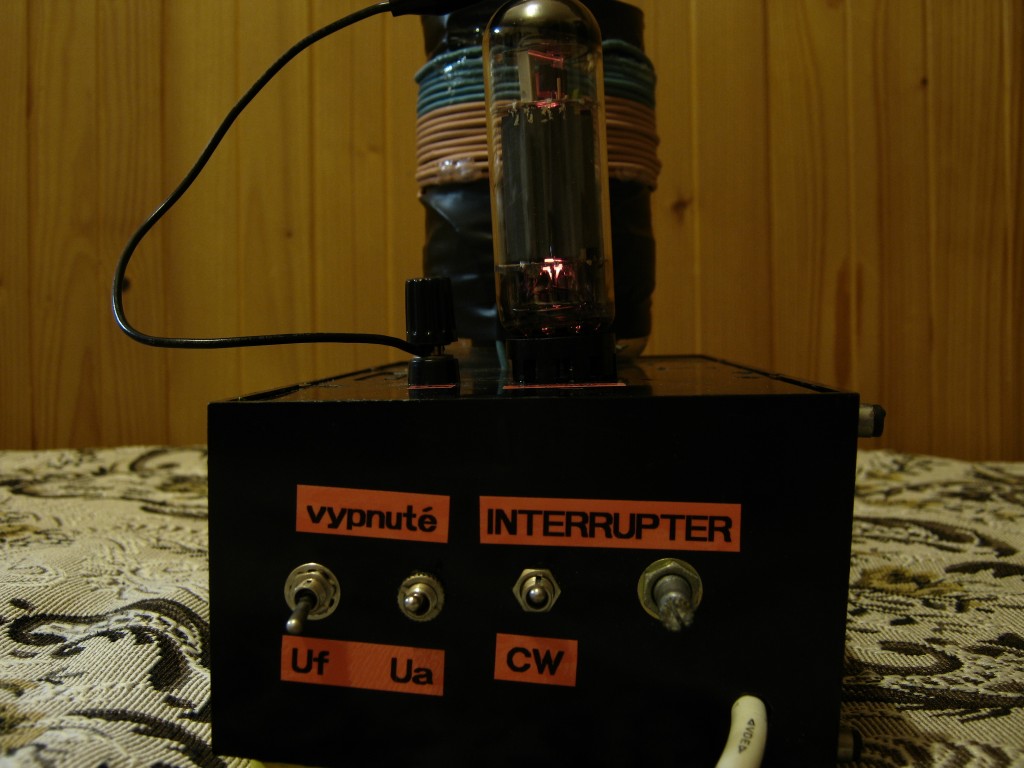 Control panel
And, when properly tuned, the anode doesn't go red even after 4 minutes of continuous run. So a nifty table decoration I've got here! 🙂
You might have noticed a fuse in the cathode connection, as presented in the above schematic. Well, this circuit has some unfortunate consequences with some PL504s: when mistuned (too little or too many feedback turns), sometimes the circuit abruptly stops oscillating and grabs a huge inrush current which ruptures the thin internal cathode connection, rendering the tube useless.
To prevent this (if this would ever happen to you), install a 300-400 mA fast fuse in series with your cathode. After this happens, you need to tinker with the number of primary/feedback turns, usually adding more feedback turns solves the situation.
Now for some videos!
---

In operation


A lightbulb on break-out point